Regular price
$19.00 USD
Sale price
$12.97 USD
Unit price
per
Sale
Sold out
🚚 Worldwide Fee Shipping

Your items arrive in 6-12 business days, hassle-free. Free worldwide shipping with no hidden costs or extra fees.
😉 Money-Back Guarantee

We value your satisfaction and want you to feel confident in your purchase. That's why we offer a 100% money-back guarantee on all of our products. If your order doesn't arrive as expected or arrives damaged or broken, we will happily refund the full purchase price.
📞 Award-Winning Customer Support

Experience lightning-fast responses from our dedicated customer support team, who work tirelessly to ensure your complete satisfaction with every interaction. Our top priority is to address your needs promptly and effectively, guaranteeing a seamless and enjoyable experience.
A humorous and funny tea infuser for loose tea! If you're looking for a funny gag gift, then you've found it.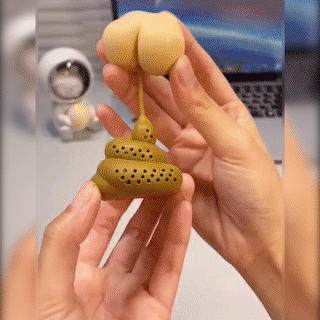 Give this hilarious gag gift tea infuser to your friends and colleagues and you will make them laugh and add a few moments of fun to a quiet life.
Specifications
Product Weight 50G
Product Size:(L x W x H) 10 × 5 × 2cm / 3.9 × 2 × 0.8inches
Package Contents Funny Loose Leaf Tea Infuser × 1
Material Silicone
Main Features
Effective Tea Filtration
The evenly laid holes and the small holes in the filter prevent loose tea leaves from leaking out of the scattered strainer, enabling the separation of tea leaves and tea water, which also results in sweet and pure tea.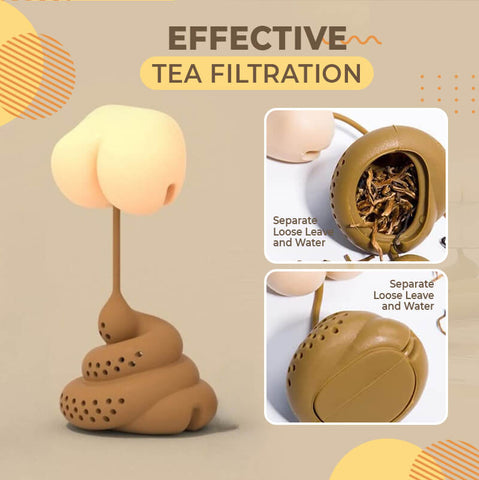 Novelty Butt And Faeces Shape
The wacky design, with its distinctive hip and feces design, is striking, joining them together and hanging from the rim of the cup for one of the more wickedly tricky tea brewer artifacts.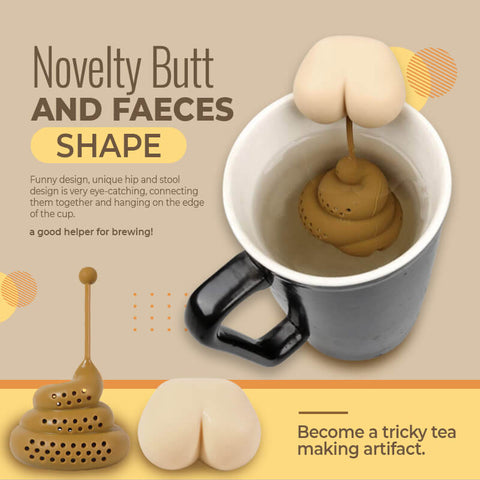 Soft & Eco-Friendly Silicone
Environmentally friendly silicone material, reusable, durable, soft and non-stick, high and low-temperature resistant, easy to clean, and dishwasher safe.
Easy To Use
Special hanging design for your cup or teapot. You simply open the tea strainer to add the tea leaves and close it, then place the strainer into the teapot or cup. Finally, wait a few minutes and enjoy your perfect tea.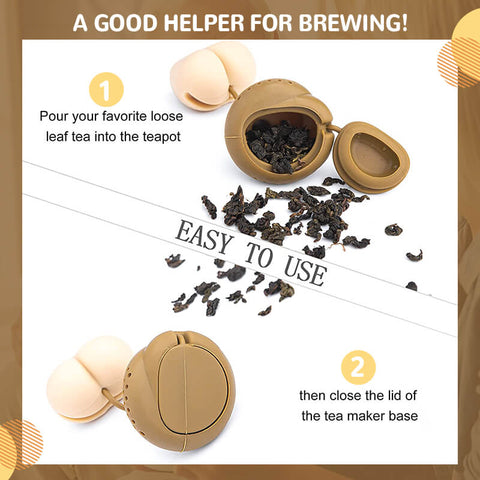 Easy to replace old tea bags and control the perfect taste.
Funny & Prankish Gift Ideas
This is also a very creative gift, perfect for gift giving or for your own use. A shocking prank! The perfect gift for April Fool's Day, or any day that is special to you.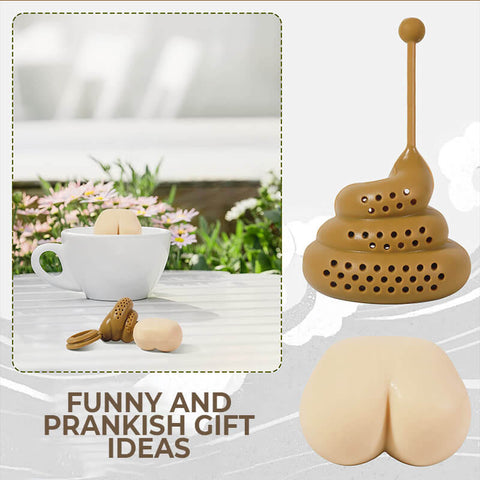 Surprise your friends and family. I'm sure they'll love this fun prank, tea maker.
Payment Methods:
View full details